Product Show
INTRODUCTION: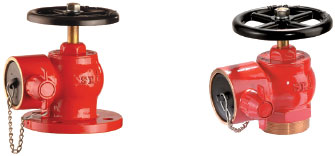 Landing Valves are manufactured to BS 5041 and are available in 65 mm Ø female thread or flange
end inlet and female instantaneous to BS 336 outlet. Falcon also produces various types of landing valves such
as screw oblique landing valves, flanged oblique landing valves, flanged right angle landing, flanged straight
through landing valve and double landing valve.
Specifications

Body Copper Alloy to BS 1400
Handwheel Grey Cast Iron to BS 1452
Inlet Flanged or BSP screw thread
Outlet Female instantaneous to BS 336 and other connections
Pressure Test 22.5 bar
Manufacture and certified to BS 5041 Part 1*
Nominal size DB65 2-1/2", DN50 2". DN80 3"